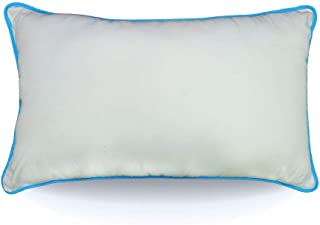 In stock
Mush Pillow
₹499
Comfortis Mush Pattern Microfiber Filler Cushion with Extra Soft Comfortable Sleeping Pillow | Oblong Inserts for Good Sleep Pack of 1 (17×27 inches, White)
Product Dimensions: Length 68.58 | Width 43.18 | Height 20.32 in cm | Thickness: 3 Inches | Colour: White with sky blue border | After Compressed: 2 Inch Max | Included Component: Only Pillow | Fill Material Type: Microfiber | Fabric Type: Embossed Micro Polyester Fabric.n
The pillow is filled with super Microfiber which results in a soft and comfortable pillow. Lightweight, breathable, high-quality fiber pillow designed to ensure superior comfort and exclusive pressure relief throughout the night.n
Made of Microfiber filling, High-density special microfiber fill conforms to the shape of your head and body and provides the perfect amount of fluff, thickness and support.n
This Pillow Provides A Uniform Support Throughout Your Sleep No Matter If You Are A Side Sleeper, Back Sleeper Or A Stomach Sleeper. Soft Sleeping Pillow for Comfortable sleep.n
Soft fluffy pillows are designed to provide maximum comfort to your head and neck. Filled with Microfiber these provide an optimal level of softness which make them ideal for everyday use.n
These pillows fit most enhance the look and feel of your bedroom. The comfort factor of your pillow largely determines the quality of your sleep.n
Provides the best support to neck and head. Extra Soft Fluffy & Breathable Microfiber Pillow, Ultra Comfortable for deep sleep.